Home
Being a Sidewalk Astronomer isn't really about "joining" anything - it's about embracing a philosophy and acting on it.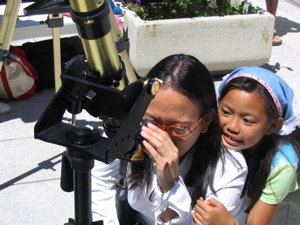 Ask John Dobson, founder of the Sidewalk Astronomers, how he became interested in astronomy and he'll answer, "I was born!" People have a natural fascination with the Sun, Moon, planets, and stars, but to most it's something they read about in a magazine or see on television.
We stop people on sidewalks and let them see the craters of the Moon, the moons of Jupiter, the rings of Saturn, or the spots on the Sun. For just a moment, they have a personal connection with the universe around them, and sometimes life seems a little better after that.
We call it "urban guerilla astronomy."
Quick Links
San Francisco Clear Sky Clock